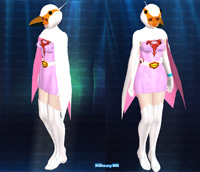 click to enlarge
Jun the Swan from Battle of the Planets (aka Team Gatchaman)
Like samus, was completed but never released because couldn't figure a good way to hide the hair when wearing a helmet.
Well now that that issue has been solved, all was needed was to go back and apply the new mod.
Unlike samus' helmet, I needed Jun's visor to be transparent, not translucent. Using default way to make mesh transparent isn't truly transparent, the color makes it translucent instead.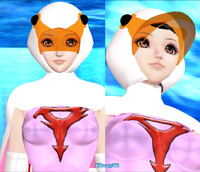 click to enlarge
As you can see above, the top of the visor (left image) is transparent, you can make out all the details of her face. The bottom of the visor (right image) uses default transparency. As you can see, details are muted, making it more translucent than transparent.
With some hex editing, I basically recreated the look of an inverse mesh while maintaining the look of a regular mesh. This way you can see right thru the mesh, yet it'll color whatever is underneath it.
I've also edited the hair hiding so the costume will work for any girl. Due to how conforming the helmet is and having an open face, hiding all hair type isn't possible. If your girl has bangs, then it'll show, cause to hide the bangs would mean hiding the eyebrows & lashes.
Every thing is scratch made, except the top, gloves & boots, which are based on default clothing. Costume is using my cocktail dress mod, which is a one piece, skintight dress. Since there isn't really a good cape mod out, there will be some clipping and won't flow like regular clothing. Also gave the outfit a high gloss to make it pop. Like Halibel, high gloss on white makes the outfit stand out more than just a flat white.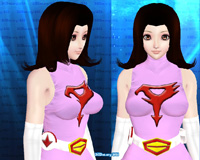 click to enlarge
Made her hair dark brown. I've seen it ranging from black to green. Wanted a realistic look so hence made her a brunette.
Cape & helmet comes off as soon as you enter H-Scene, rest of the outfit behave as usual.
Character: [ Download ] [ Mirror ]
Outfit: [ Download ] [ Mirror ]