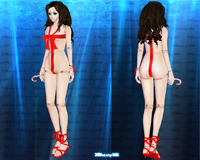 click to enlarge
New toy for Christmas!!
A ball joint doll, fully wrapped for the holidays!
Trying my best to mimic an actual ball joint doll without distortion and can be used with current outfits. The figure is a bit thinner than normal AG3 girls because the ball joints are bigger than regular joints so everything had to be scaled down.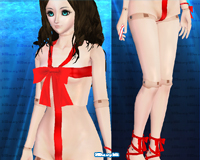 click to enlarge
Very minimal texture work, all the joints are 3d meshes with 3d pins and notches. The hair was taken from my Black Widow mod because it had the volume & curls suited for the doll.
The outfit was an old Christmas mod I never got around to finishing. Updated to be onepiece with more detailed texture.
The perfect outfit to show off the doll's joints!
The doll is regular size, you could make it doll size with illusion wizzard, I didn't bother to so be aware of any unexpected distortion and/or clipping.
Donators should get this mod by today, everyone else will just have to wait until Christmas to unwrap her!
Character: [ Download ] [ Mirror ]
Outfit: [ Download ] [ Mirror ]