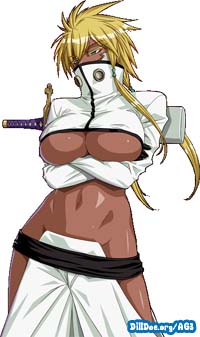 click to enlarge
Preview of Bleach's Halibel!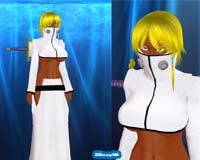 click to enlarge
The outfit is pretty much finished. I've just started working on the character so alot of stuff is missing.
I've started on one of the braid. Still have to do the back 2 as well as the spikey hair.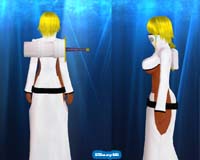 click to enlarge
I have no idea what her mouth area looks like since I can't seem to find a picture off of google to base it on. The hollow mask just covers her cheek at this moment and I've used part of my mask mod to do this. If anyone has a picture of her full face, please let me know so I can make the outfit/character 100% accurate. Also, what personality would fit her? Right now I have it as V.
I've been behind in uploading because testing the mod just takes too long. Even with a trainer I still have to chase down the girl and see if the outfit or mod works as it should. Things that looks perfect in Make window doesn't always work in the game. Hopefully I should be uploading a bunch soon and get back to the request list.