Ok, seems like a few of you have trouble installing mods for Make. Here are some instructions on how to install them manually if you can't do so in Illusion Wizzard!

It might seem long, but it's pretty short (6 steps) I just want to be as thorough as possible.
Tools you'll need:
7-zip (to uncompress the mod)
AG3Decrypt (to uncompress AG3′s .pp files)
Notepad
Download those tools so you can uncompress the mod files and js3_00_00_00.pp.

1) Copy or move AG3Decrypt.exe to your
AG3\data
Folder

2) Click & Drag
js3_00_00_00.pp
onto AG3Decrypt.exe (This contains all the .lst files that tells Make where stuff are & how to use them)
AG3Decrypt.exe will uncompress the pp file and create a new Folder (with the same name as the pp file) with all the files uncompress in it. In this case we are uncompressing the LST files.

3) Using 7-zip, uncompress the mod you want to install. In this case we are using the
Futanari
mod.
You should now have a folder name after your mod. In it there is a Folder called AG3, some preview images and/or a description text file.
In the AG3 folder you should have
LST_INSERT
&
M_Tex
(& js3_00_07_00) folder and a .pp (or .xx file in js3_00_07_00 folder)
*see below on how to install .xx files

4) Copy the pp file to your
AG3\data
folder and all the images in the M_TEX folder to your
AG3\data\save\m_tex
(In their corresponding folders)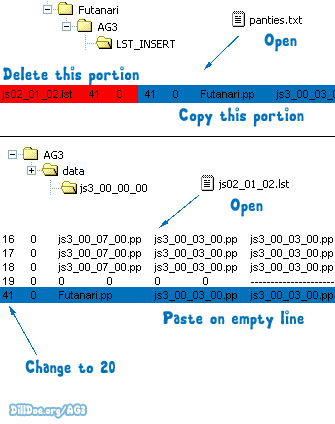 5) Now open the text file in the
AG3\LST_INSERT
folder (in this case it's panties.txt) and delete the first 3 columns and copy the rest of text. (Turn off wordwrap in Notepad.exe)
In your AG3\data\js3_00_00_00 Folder open js02_01_02.lst, which is your undergarment list. Find an empty slot and paste what you just copied from panties.txt.
Change the first column number to next in series, in this case we have to change it to 20.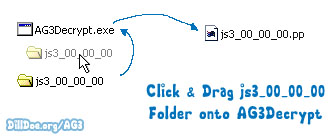 6) Finally Click & Drag folder
js3_00_00_00
onto AG3Decrypt.exe to finish.
AG3Decrypt.exe will backup your original js3_00_00_00.pp file.
Ok, to summarize:
1) Download tools and copy AG3Decrypt.exe to your AG3\data folder
2) Click & Drag js3_00_00_00.pp onto AG3Decrypt.exe
3) Uncompress your mod
4) Copy pp file to AG3\data folder and textures from M_TEX folder to their corresponding AG3\data\save\m_tex folder
5) Open LST file in your mod's AG3\LST_INSERT folder and copy everything except the first 3 columns.
Open corresponding .lst file in AG3\data\js3_00_00_00 folder and paste data in empty slot.
6) Drag js3_00_00_00 onto AG3Decrypt.exe to finish.
*How to install .xx files
If you happen to get a .xx file in your mod (I won't do this cause it's takes longer to install/uninstall) it should be in a folder called js3_00_07_00 (or similar).
1) You have to Click & Drag js3_00_07_00.pp onto AG3Decrypt.exe to uncompress it.
2) Add the .xx file in the new js3_00_07_00 folder
3) Click & Drag the folder js3_00_07_00 onto AG3Decrypt.exe to compress it again.
4) Follow steps 4-6 to finish copying the texture files and adding it to LST file.
**Notes
LST files for outfits.
js02_01_01.lst – Underwear Top
js02_01_02.lst – Underwear Bottom
js02_02_01.lst – Top
js02_02_02.lst – Sleeves
js02_02_03.lst – Bottom
js02_03_01.lst – Glove
js02_03_02.lst – Socks
js02_03_03.lst – Shoes
js02_04_01.lst – Head
js02_04_02.lst – Face
js02_04_03.lst – Ears
js02_04_04.lst – Hair Back
js02_04_05.lst – Hair Side
js02_05_01.lst – Lower Back
js02_05_02.lst – Back
js02_05_03.lst – Bottom
js02_05_04.lst – Neck
IMPORTANT!!
Make sure you install Darkhound's lst expansion, which fills each lst above with 100 slots or else anything you add will not show up in MAKE.
You can do this manually by changing the 2nd row, 7th column from 0 to 100
ie:
0 0 0 0 0 0 0 …
1 0 0 0 0 0 100 …
2 0 0 0 0 0 None …